BY AIR
Indian Airlines (Domestic Airline in India) runs daily flights from Delhi to Agra. Kheria Airport (Airport of Agra) is about 6 km from the Agra city centre and is easily accessible by taxis and auto-rickshaws at nominal rates.
Indian Airlines has two offices in Agra:
Hotel Clarks Shiraz, Taj Road, Agra.
Kheria Airport.
BY RAIL / TRAIN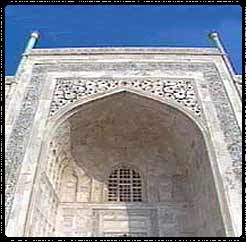 Agra is well connected by excellent train services to Delhi such as The Shatabdi Express (2 hrs), Taj Express (2.5 hrs), Intercity Express (3 hrs).
Railway Stations
:
Agra Cantt Rly Stn, Enquiry: 131, 133. Reservation: 364611
Raja-ki-Mundi Rly Stn, Contact: 354477
Agra Fort Rly Stn, enbquiry: 132, 135 Reservation: 364131
BY ROAD
-
Express bus services (a/c and non-a/c) are available from Delhi, Jaipur, Lucknow, Gwalior, and Jhansi. For those driving to Agra, the distances are:
Mathura (Pilgrimage Destination) - 58 kms.
Bharatpur (Bird Sanctury) - 60 kms.
Gwalior (Historical Destination) - 118 kms
Delhi (Capital City of India) - 203 kms
Jaipur (Cultural & Historical Destination) - 236 kms.
Khajuraho (Historical Destination) - 393 kms.