Agra Red Fort
Built principally as a military establishment by Akbar in 1565, the red sandstone Agra fort was partially converted into a palace during Shah Jahan's time. Though the principle structure was built by Akbar many more additions were made by his grandsons.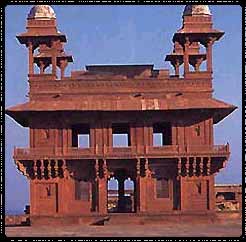 Itmad-Ud-Daulah's Tomb
This tomb belongs to the father of Nur Jahan, Ghias-ud-Din Beg. He was the Wajir or the Chief Minister of Emperor Jehangir. This white marble tomb was built by Nur Jahan between 1622 and 1628. The tomb may not be as mammoth as the Taj but the inlay designs and carvings are no less than Taj if not more. The delicate marble latticework in the passages allows the light to enter the interiors. A similar tomb was built by Nur Jahan for Jehangir in Lahore. This tomb was the first complete marble Moghul structure.
Chini-Ka-Rauza
A tomb of glazed tiles is a memorial dedicated to poet-scholar and later the Prime Minister of Shah Jahan, Allama Afzel Khal Mullah Shukrullah of Shiraz.
Jama Masjid Or Jami Masjid
Built by Shah Jahan in 1648, the main gate of this mosque has inscription written on it that it was built by Jahanara Begum. She was the favorite daughter of Shah Jahan and was imprisoned with him. The absence of minarets and the shape of the dome give sit a distinguished character.
Fatehpur Sikri
37 kms from Agra is built a city predominantly in Red Sandstone called Fatehpur Sikri. This town was built by the Mughal Emperor Akbar. He had planned this city as his capital but shortage of water compelled him to abandon the city and within 20 years the capital of Mughals was shifted to Lahore. Fatehpur Sikri was built during 1571 and 1585.
Sikandra
Four kilometer from Agra is the mausoleum of Akbar. Construction of this beautiful monument was started by Akbar himself . This structure has a perfect blending of Hindu, Christian , Islamic, Buddhist, Jain motifs.